Yesterday, we stopped by the library. I wanted to pick up two books. We left with twenty. Love that library! Some of our surprise finds were Christmas carols illustrated in a book format.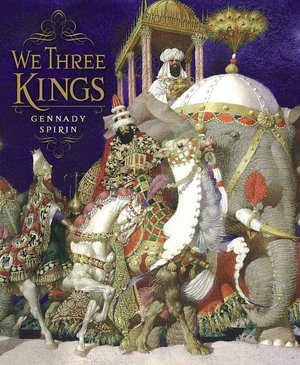 The first is a lavishly illustrated book entitled
We Three Kings
, illustrated by Gennady Spirin. The carol was first written in 1857 by John H. Hopkins Jr. The book depicts the lyrics with intricate illustrations that feel majestic and fit for royalty. Spirin's style is reminiscent of long ago paintings with the heads of heavenly and religious figures encircled in gold. In all, the words and illustrations combine to form a profound effect.
The Little Drummer Boy
is a Christmas carol we adore. The simple words and rhythm telling of a young poor boy wanting to give something, anything to baby Jesus touch our hearts. We found the lyrics set to a series of illustrations by
Ezra Jack Keats
. Each page depicts a few lines of the song. As the mood of the little drummer boy changes from hope, to awe, to sorrow (for having no gift), and triumphant joy as he plays his heart out on his drum for baby Jesus, the colors in the illustrations change to reflect these moods. The little boy's facial expressions and countenance depict the words wonderfully.
Tomie dePaola's simple line and color illustrations lend themselves well to
The Friendly Beasts: An Old English Christmas Carol
. Although I am unsure of the origins of this Christmas carol, we did enjoy the perspective of the animals on that first Christmas night. The donkey, cow, sheep, and dove each give something of themselves to baby Jesus. The words coupled with dePaola's illustrations are endearing.
The final two finds both illustrate
The Twelve Days of Christmas
. One book, illustrated by
Emily Bolam
offers young pre-readers the opportunity to read, sing, or count along with a full song rebus. As the days in the song lengthen so does the rebus, allowing readers to fully appreciate the scope of the gifts. The illustrations have a modern flair, with a touch of humor. We did have a bit of a dispute on Bolam's final four days as we typically sing it in a different order. The order we prefer is used in
The 12 Days of Christmas: The Story Behind a Favorite Christmas Song
, written by Helen Haidle and illustrated by Laura Knorr. This book combines beautiful illustrations, song lyrics, background information, and Bible verses. Each painting illustrates a day in a joyful style with a colorful holiday flair.
In all, our trip to the library proved to be more bountiful than I had expected.
My friend, Annette, wrote about some other Christmas carols in her post today, too. Check out the sweet little mice illustrations and book suggestions at
Live, Learn, Love
.
Related posts:
Teaching Christmas Carols
Good King Wenceslas