The month of December is filled with special music and programs especially for Christmas. This year, our daughters will sing in a Christmas choir concert. In years past, we've watched live nativities, plays, and ballets and participated in a few. Not only are there these extra programs outside of the house, but we have special music in our home. During the month of December, we listen to Christmas carols and music almost exclusively.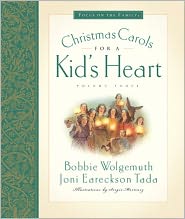 Our favorite resource for teaching our children about Christmas carols is
Christmas Carols for a Kid's Heart
, by Bobbie Wolgemuth and Joni Eareckson Tada. Combining historical information, lyrics, Bible verses, prayers, and personal testimonies, the authors present each of the twelve carols with enthusiasm and interest. An accompanying CD is included which helps those less musically talented (me!).