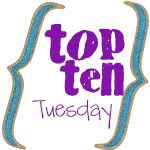 Movies about Christmas abound in the stores and on tv. Over the years, we have watched and accumulated quite a few.
Our family's top ten Christmas movies are...
Honorable mentions:
How the Grinch Stole Christmas
and
The Little Christmas Burro.
Neither technically made the list because we couldn't figure out which version of the Grinch we liked better, and well, not every one loves the Burro...
10.
Punchinello and the Most Marvelous Gift
(sweet Punchinello, we just love him!)
9.
White Christmas
(the children aren't huge fans, but my husband and I are)
8.
Frosty
(maybe not technically a Christmas movie...but the children sure love watching that
snowman)
7.
Alabaster's Song
(makes the list for the girls' enthusiasm for this video, the boys not so much)
6.
The Star of Christmas
(a Christmas movie with Bob and Larry, fun for the whole family!)
5.
Scrooge
(Albert Finney musical version - dated quality, but love the music! On a side note, we
have seen so many versions of Christmas Carol story line I probably could do a top ten
ranking of the different Christmas Carol versions...maybe next week? Then again, you
already know which one will top my list!)
4.
The Legend of the Candy Cane
(we have the book and the movie, they vary slightly from one another, but the children
love them both)
3.
The Lion, Witch, and the Wardrobe (The Chronicles of Narnia)
(OK, technically NOT a Christmas movie, but there is that one scene about Christmas,
and there is snow...and well, it originally hit theaters during the Christmas season...)
2.
The Prince of Peace
(though I don't particularly care for the computer generated, the children love it)
1.
It's a Wonderful Life
(my personal favorite, and since I'm writing the post...)
What is your family's favorite Christmas movie?
Last year we saw a live performance of
The Miracle of Christmas,
complete with animals, at a Sight and Sound Theater. This year, we aren't able to go, and are instead hoping to watch the movie called
The Nativity Story.
Would you recommend this movie or suggest a different one?