Hoping to teach our children about how Christmas is celebrated elsewhere in the world, I searched for resources. A few of the favorite books we found are...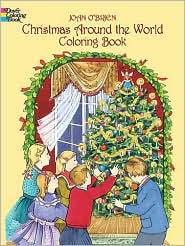 Christmas Around the World Coloring Book
, by Joan O'Brien, is a book full of coloring pages highlighting Christmas celebrations world wide. It also offers short descriptions of each country's unique traditions on every page.
Christmas Around the World
, written by Emily Kelley is a small picture book my oldest son and I found on a recent library trip. Kelley explores Christmas traditions of eight different countries. Some of the countries are Mexico, China, and Iran. The customs highlighted within the book are fascinating to read. We learned about the traditions of Christians in Iraq and the Festival of Light in Sweden.
Another picture book we found on that same library visit was
The Christmas Drum
, by Maureen Brett Hooper. Peter, a young boy living in a small village in Romania, anticipates playing the duba (a drum) for the caroling on Christmas Eve. Peter's father is working in the city and unable to play with the group. Peter takes his place. For the entire evening, Peter plays the drum well, and even sings a carol all by himself.
For a more local selection, we read
An Amish Christmas
, by Richard Ammon. The book begins with a group of Amish children preparing and performing a Christmas program at their one room school house on Christmas Eve day. Christmas day is celebrated with family, food, and fun. The following day, The Second Day of Christmas is celebrated.
Perhaps, if we have time, we will finally travel to the
National Christmas Center
for a tour highlighting world wide Christmas traditions of past and present.