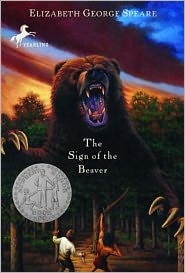 We've read it before. About four years ago, when we first studied this time period in history, we followed another's recommendation to read
The Sign of the Beaver
, by Elizabeth George Speare. It did not disappoint. Though our children were young, the exciting story line captured their attention. This time, reading through the book, the children and I are appreciating the character development, interaction, and struggles.
The Sign of the Beaver takes place in the Maine wilderness during the 1700's. Matt, a twelve-year-old, is left alone at his family's cabin while his father travels to bring his mother and siblings to the new settlement. The situations and people Matt meets while living alone are interesting and bring the time period to life. It fabulous to read aloud, whether the first time or second time. For those wondering what reading level this book is, I would consider it 4th to 6th grade level.
Other titles we have read aloud that are set in Maine are
Calico Bush
,
Blueberries for Sal
, and
One Morning in Maine
.
Calico Bush
, written by Rachel Field, takes place during the 1740's in a northern part of Maine. The area where the Sargent family settles is quite isolated. However, the location is not the only reason Marguerite feels lonely. She has lost her family and now lives with the Sargent family as a servant. Neither the family nor the area feels like home to Marguerite. The story line is poignant, and thirteen-year-old Marguerite's courage and inner strength are admirable. The book is great for independent readers in grades 5th to 8th.
Both
Blueberries for Sal
and
One Morning in Maine
are written by Robert McCloskey. Each is a fabulous short story to read aloud to preschoolers or early elementary aged children. Our favorite of the two is
Blueberries for Sal
. After all, who doesn't love when Sal follows the momma bear and baby bear follows Sal's momma around on the blueberry hill?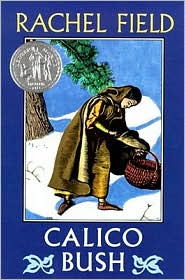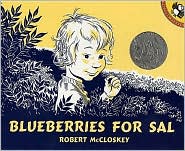 To find more read aloud selections, visit Amy at
Hope Is the Word
for this week's
Read-Aloud Thursday
link up.