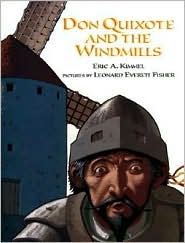 For history class, we are studying 1400's/1500's to 1850 over the course of this school year. Typically, our read aloud selections focus on historical accounts, literature, or biographies from this time period. At times, we will read an unrelated selection, but for the most part, our selections center around our history studies.
This past week, I found
Don Quixote and the Windmills
, by Eric A. Kimmel at our local library. It is picture book retelling a short portion of Miguel de Cervantes Saavedra's original
Don Quixote
. The illustrations are bold and perfect to share with a small group of listeners. The text is fabulous to read aloud. It combines suspense and humor. Our children were delighted, even our oldest who read
Adventures of Don Quixote
, by Argentina Palacios, earlier this year.
To find out about more read aloud selections, visit Amy at
Hope Is the Word
for this week's
Read-Aloud Thursday
link up.