Throughout the years, each of our children has started learning to read by first learning their ABC's. For me, it is fun to try to incorporate the ABC's into as many subjects as possible. During that prekindergarten time, our children are immersed in the ABC's. We even use a few ABC Bible resources. Three of our favorites are: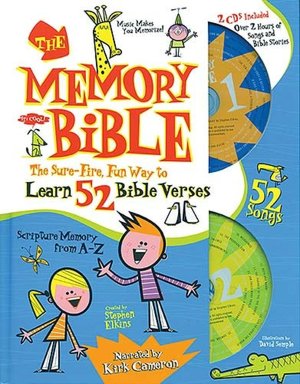 The Memory Bible: Learn 52 Bible Verses
, created by Stephen Elkins
Bible Stories From A to Z (ages 5-9)
, by Mary Murray
Sing the Word from A to Z
, by Anne & Steve Harrow
The Memory Bible: Learn 52 Bible Verses
offers a little of everything all within 52 short devotionals. The book is set up alphabetically. Twice the book goes through the alphabet (capital and small letters). Each letter has a memory verse, devotional story, Bible passage, and song. The accompanying CDs are narrated by Kirk Cameron. The CDs only have the Bible verse, passage, and song for each letter.
For a more hands on approach, we use
Bible Stories from A to Z
, by Mary Murray. It is a workbook with 26 lessons, one for each letter of the alphabet. Each lesson focuses on one aspect or story from the Bible. Along with the story, there are questions, craft suggestions, and simple worksheets. The pages are reproducible and easy to use with multiple children.
Our family's favorite alphabetical songs are found on
Sing the Word from A to Z
. What a fabulous way to hear and learn Scripture! The Harrow family has assembled a lovely CD. Seven years after my oldest son learned the songs, he still sings along with them when we play the CD for his younger brother.