There is a plethora of Christmas books at our local library. So many that we could probably read them all year long. However, we generally try to wait until after Thanksgiving. Some of our favorite library finds this year follow.
Historical Selections: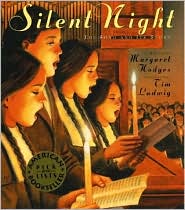 Silent Night: The Song and Its Story
, written by Margaret Hodges, shares the story behind the well know Christmas song "Silent Night." Beginning with its origin in a small Austrian village and following the song's world wide impact through the years, this picture book is interesting for grown ups and children alike.
When Washington Crossed the Delaware
, written by Lynne Cheney, tells of the cold winter of 1776 and the Christmas crossing of American troops led by George Washington. After a spring trip to Valley Forge, the children had a keen interest in this book. In fact, this year, the children and their cousins will be performing an original play called "A Valley Forge Christmas" at our family's annual Christmas gathering .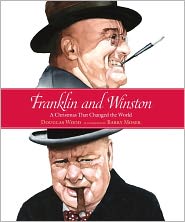 Franklin and Winston: A Christmas that Changed the World
, written by Douglas Wood, was a fascinating read for me and the children. Telling of the Christmas time visit between Prime Minister Winston Churchill and President Franklin Delano Roosevelt, Wood intermixes light hearted moments and serious somber realities of World War II.
O Christmas Tree: Its History and Holiday Traditions
, written by Jacqueline Farmer, traces the history of using evergreens in Christmas decorations from Ancient Egypt's usage of palm branches through Middle Age European pine tree decorations to present day American Christmas tree farmers. The book is filled with tidbits of information, such as the first time electric lights were added to the White House Christmas tree and Massachusetts' almost two hundred year ban on Christmas.
Linked to
Read-Aloud Thursday
at
Hope Is the Word