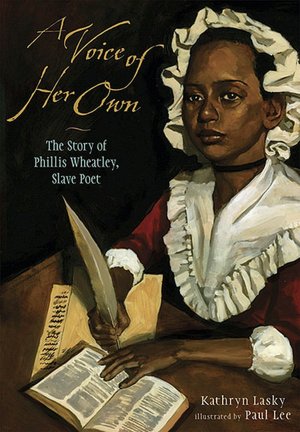 This year, our history studies will only carry us through 1850. Which is about a hundred years too early for studying Martin Luther King Jr. and the Civil Rights Movement. However, that will not stop us from incorporating a few history books into our lessons for the day. Several of the books we will peruse today are...
A Voice of Her Own: The Story of Phillis Wheatley, Slave Poet
, written by Kathryn Lasky tells of Phillis Wheatley, who lived during the time period of our current history studies. This picture book biography will be a fabulous starting point.
Heart and Soul: The Story of America and African Americans
, by Kadir Nelson, offers a comprehensive history from the American Revolution through Martin Luther King, Jr. We will read parts of this together. Then, I will ask the older two children to take a few days and read through it independently.
and
My Uncle Martin's Words for America
, by Angela Farris Watkins, PhD., rounds out our mini unit. A fantastic biography using Martin Luther King, Jr.'s own words intertwined into the narrative. The repetition of key words like love and freedom focus the reader on the values King promoted. It is an excellent introduction to the impact of his life.
Another book I should mention is one that we read almost every year. It is
The Story of Ruby Bridges
, by Robert Coles. Ruby Bridges is a young girl caught up in the large scale drama of desegregation in the public school system. Her poise, compassion, and honest outlook are touching and humbling. {I read this book with a pack of tissues nearby.}